Steam Engine Revolution development project
The present stage of SER technology: SEED (physical effect proven)
We know that SER is unbeleivable, therefore we have to work hard to succeed.
We prepared a 3 stage project plan and we are actively seeking for partners to finance the next steps of SER project.
Here we summarize the essentials of Steam Engine Revolution development project plan.
Project roadmap
We have to take a long march from the first experiment to the victory of Stem Engine Revolution.
Steps of the project:
1st  phase
R&D – Research & Finalize the SER basic materials
Prepare:
Feasibility Study
Business Plan
Prototype Development Plan
Timespan: 6 months 
2nd phase
Development of ~50 kW output proof-of-concept of SER engine.
We will make comparative measurements with (1)normal steam engine, (2) gas-turbine, and (3) benzine combustion engines with the same outputs, to proof the competitiveness of the SER technology.
Timespan: 12 months 
3rd phase
Based on the first results of the first two phases we will build a 1 MW output SER engine prototype.
Test & measure in workshop.
Validate the measurement & the data with an independent accredited company. Test & measure in real service environment, e.g. connect to a local microgrid to supply a small village with electricity.
Project output: Market ready prototype & tested technology
Timespan: 18 months 
Commercialization
Implementation and demonstration of SER technology in a large power plant.
Supply a Truck with SER engine and
Supply a Locomotive with SER engine and
Supply a Ship with SER engine
We are seeking partners and support to continue the SER project and to reach the success.
Be part of Steam Engine Revolution! Come with us, and change the world!
To help You to see the size of this business, take a look at the revenue and profit table of the Coal Power Plant's in the U.S.A.: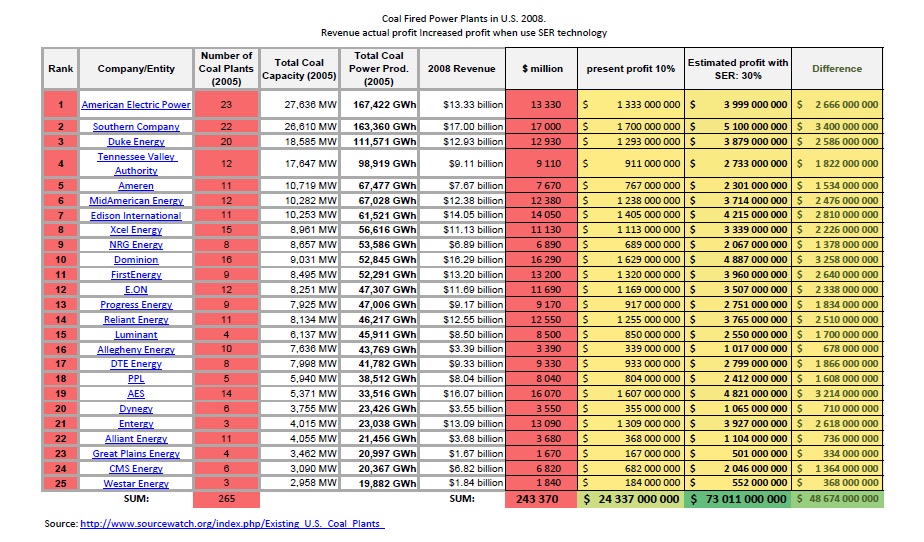 If you are interested, and would like to be our partner, invest into the next Coal Industry Revolution…